We present you our judges, important and well known personalities of the jazz world. They come from all continents and all fields of the industry.
Patricia Johnston (France)
President of the Jury, 10th Edition – Member of 7VJC since 2018
Producer, co-founder Taklit Publishing & Production – A graduate in International Studies from the University of Washington in Seattle, Patricia co-owns Taklit, a French agency specializing in music production and publishing, artist management, concert & tour management. She is responsible for mediation and legal affairs for the agency. She represents composer and guitarist Gilad Hekselman, Swiss trombonist and composer Samuel Blaser, Franco-Spanish composer and pianist Carlos Cippelletti, the ShekBand family jazz trio from Kyiv, French cellist Olivia Gay, French composer and pianist Laurent Grynszpan the outstanding American pianist Betsy Schlesinger and the award winning Taiwanese pianist, Ching-Yun Hu.
member of the 7VJC since 2023
Pachi Tapiz is the creator and director of the website Tomajazz (www.tomajazz.com/web). Created in 2001, Tomajazz is the oldest website about jazz and improvised music in Spain. In addition to his work at Tomajazz, he has collaborated with various publications such as Más Jazz, Ritmos del Mundo, Ruta 66 magazines, Diario de Noticias and Diario de Navarras newspapers, and Cuadernos de jazz, among others. He is the host of the active podcasts JazzX5 and HDO, and also directs and presents the radio program Jazz Para Ti on RCB. He has also served as a judge for the Group Contest at the Getxo Jazz Festival and Jazzeñe, among others.
Anna Russkevych (Ukraine)
Member of the 7VJC since 2021
Anna Russkevych has been organizing tours and cultural events for over 20 years and she was always passionate about jazz. In 2016, Anna accepted the offer to become an art director of the Ukrainian festival "Jazz on the Dnieper" and completely changed it, bringing the festival to an international level. In 2022 due to the terrible war the festival took a pause and Anna moved to France. Now she and her festival colleagues started an artistic agency "ArtDi".
Wilbert Sostre Maldonado (Puerto Rico)
Member of the 7VJC since 2023
Member of the Jazz Journalists Association and the Jazz Education Network, jazz radio producer and columnist, he has written reviews and articles for several publications in the United States and Puerto Rico. Among them, All About Jazz, Jazz Times, Jazz Inside Magazine, Latin Jazz Network, Diálogo University of Puerto Rico, Fundación Nacional para la Cultura Popular, 90 Grados and for his blog Puerto Rico Jazz, prjazz.blogspot.com.
Vangelis Aragiannis (Greece)
Member of the 7VJC since 2022
Vangelis Aragiannis has been writing music reviews for over twenty years, published in various publications and websites (among them is the http://www.jazzntzaz.gr magazine). He writes articles, record reviews, as well as interviews with famous artists on jazzbuzz.gr. He is involved in the organization of the Syros Jazz Festival (https://syrosjazzfestival.gr), which takes place every year since 2013. 
Member of the 7VJC since 2023
Music historian and writer for several magazines. As a writer, Scott published over 1000 music related articles covering jazz, rock, classical, country, blues and even world beat. In addition to numerous LP and CD reviews, he has interviewed amazingly creative musicians such as Artie Shaw, Little Richard, Lou Gramm and more.
Member of the 7VJC since 2019
Peter broadcasts The European Jazz Hour on a number of internet and local radio stations and also writes for London Jazz News. Peter's show focuses on jazz from the UK and Europe and in particular on the exciting new generation of young bands making waves today and often converting listeners from the rock and urban music scenes into jazz fans.
Member of the 7VJC since 2021
Music Bookings coordinator at Ronnie Scott's Jazz Club, London. He has experienced a countless number of astonishing performances there from the likes of Stephane Grappelli, Dizzy Gillespie, Bill Evans, Roland Kirk, Freddie Hubbard, Machito, Woody Shaw, Nina Simone, Stan Getz, Art Blakey, Buddy Rich, Horace Silver, Oscar Peterson, Anita O'Day and of course on many occasions the guv'nor himself Ronnie Scott – his jokes as well as his storming quintet.
Member of the 7VJC since 2022
Mery Zimny is a music journalist based in Kraków, Poland. Co-founder of internet radio JAZZKULTURA. She collaborates with the Jazz Forum magazine. She also wrote to: Jazzpress, Gazeta Magnetofonowa, Ruch Muzyczny. For 2,5 years had worked at Off Radio Kraków. She is a member of the Multicultural Krakow association.
Member of the 7VJC since 2021
President of the Jazz Journalists Association, author, educator, editor, webcaster, blogger, print journalist and board member of the Jazz Institute of Chicago. Two-time winner of ASCAP's Deems Taylor Award for excellence in music journalism. He has been published by the the Village Voice, Chicago Reader, the New York Times, the Washington Post, Musical America, Rytmit (Helsinki), The Wire (London), Swing Journal (Tokyo) and Bravo! (Sao Paolo), among other periodicals.
Debbie Mari (South Africa)
Member of the 7VJC since 2017
She is a vocalist and pianist. She is a Lecturer in the Jazz Studies programme at the University of KwaZulu-Natal, School of Arts (Music). She is the Project Manager of the UKUSA Arts Programme and is a Board member of KUMISA (KwaZulu-Natal United Music Industry Association). Debbie has enjoyed many musical collaborations as a performer who enjoys singing jazz standards and original compositions such as those she recorded with Darius Brubeck (Before It's Too Late, title track), George Mari (Since I Met You) and Richard Walne (The Only One Around, title track).
Member of the 7VJC since 2022
EDITOR – DINGO (Dingo is a bi-annual magazine celebrating and supporting Australia's thriving jazz sector)
Originally from Ballarat, Adam plays saxophones, clarinets, flutes, shakuhachi, fujara, toys and graduated from Victorian College of the Arts in 1992. Since then, Adam has been an integral contributor to the Melbourne music scene, with regular national and international performances, working with artists from USA, Japan, Poland, France, Germany, UK, Italy, Netherlands, Greece and New Caledonia.
Member of the 7VJC since 2022
Poet, narrator, essayist, songwriter, broadcaster, editor, sax player and accordionist. He has taught courses and directed workshops and given conferences and recitals in almost all the states of the country and in the United States, Canada, Cuba, Brazil, Bulgaria, Guatemala and Spain. Titles in this field are Por saber se calla (essays on history, literature and music) , Pluma en mano (between blues and jazz), El jazz in Mexico, data for this story, The sixties turn thirty (literature and rock in Mexico) and the anthology on blues and jazz in Hispanic- American literature Everything can be heard in silence.
Anna-Maria Nitschke (Netherlands)
Member of the 7VJC since 2020
Vocalist, songwriter, producer and curator.
Anna-Maria Nitschke is a vocalist & songwriter and senior producer of the Jazz Department at the Conservatorium van Amsterdam, home to the largest jazz education program in Europe. As senior producer, Anna-Maria manages the production office which is organizing all extra-curricular activities of the jazz department. This includes an extensive Artist in Residence program with more than 50 yearly masterclasses and projects feat. many artists and educators.She also organize the Keep an Eye International Jazz Award & Summer Jazz Workshop and book +300 musical events for students & alumni each year.
Arnaldo De Souteiro - Brazil
Member of the 7VJC since 2016
Record Producer (Verve, CTI, JSR, Milestone, Sony and other labels), Jazz & Brazilian Music Historian, Manager, Journalist, Publicist, Screenplay Writer, Arranger, Composer, Percussionist, Educator, member of Jazz Journalists Association, and voting member of NARAS-GRAMMY. Founder of the JSR (Jazz Station Records) label, a division of Jazz Station Marketing & Consulting. For several years JSR was voted one of the world's best jazz labels by DownBeat magazine. He has produced over 530 albums and sessions.
As a composer, he co-wrote songs with Dave Brubeck, Fabio Fonseca, Francesco Gazzara, Ithamara Koorax and Mamoru Morishita. Everything can be heard in silence.
Member of the 7VJC since 2019
Armenia-born jazz pianist, composer and educator. Professor of Piano, Founder and currently the Dean of Jazz Department at the Lebanese National Conservatory of Music since 1998, he taught, influenced and inspired almost every young jazz musician in the region. In the early 90's, Arthur developed into the city's top piano man, working with all kinds of combos and big bands, at same time earning his "Master of
Composition" Degree from Yerevan State Conservatory of Music. Arthur was invited to Lebanon in 1996 for the opening of the biggest casino in the Middle East "Casino Du Liban". Two years later, he was
appointed to the faculty of the Lebanese National Higher Conservatory of Music in Beirut.
Member of the 7VJC since 2023
She is Vice President of the Royal Musical Association, a member of the UK Government's Department for Digital, Culture, Media and Sport's College of Experts, a member of the Arts and Humanities Research Council's Peer Review College, a Trustee of the National Jazz Archive (UK) and Musical Director of Dr Jazz and the Cheshire Cats Big Band. She is currently working on a book on British Dance Bands funded by a Leverhulme Major Research Fellowship, having completed a six-year term as Head of Music at the University of Liverpool.
Member of the 7VJC since 2022
Aya Al Azab is a musicologist and journalist of Polish-Jordanian roots specializing in blues and jazz music. She collaborates with the "JazzPRESS" magazine and the "Twój Blues" quarterly. She hosts radio program on Polish Radio Lublin and Radiojazz.fm, focusing on blues, jazz music and the history of African American musical culture. She is currently preparing a doctoral dissertation. Her academic and professional interests focus on the history and culture of African Americans, blues, and jazz music. She combines academic activity with her profession as a journalist.
Wanda Majcher (Argentina)
Member of the 7VJC since 2023
She is a jazz journalist. She has been leading and producing radio shows such as Sinestesia.Radio and Salamanca Mojo. She has a twenty years of experience in promoting and talking about jazz music, jazz trends and the jazz circuit in general. She has worked extensively alongside many jazz artists and helped them in growing in their career.
Member of the 7VJC since 2018
She is a jazz vocalist, singer, songwriter and an educator. Attended Canadian Academy International School, then graduated Berklee College of Music in 1991. Hosted TV and radio programs after returning to Kobe, then moved to Tokyo in 1995 after the huge earthquake that hit Kobe. Her career was more focused in music in Tokyo, singing for TV commercials and many other studio project works where she sang in both English and Japanese. In 2010, she entered the Jazz Vocal Queen Contest in her hometown Kobe and won first place.
Member of the 7VJC since 2021
Eddie Becton is an author with over twenty years of jazz experience as a writer, producer, broadcaster, and professor. He taught History of Jazz in America at Loyola Marymount University in Los Angeles, as well as other courses in the African American Studies Department, Communications Department, and American Cultures program. He produced and hosted a weekly radio program, The Jazz Journey, on KXLU-88.9 FM-Los Angeles that included interviews with artistic icons such as Ahmad Jamal, Charlie Haden, Les McCann, Gary Burton, Michael White, and John Klemmer, among many others.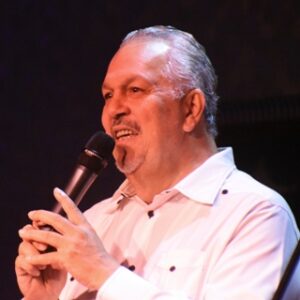 Fernando Rodriguez De Mondesert (Dominican Republic)
Member of the 7VJC since 2016
Member of the Jazz Journalists Association, journalist for Jazz Times Digital and various newspapers in the Dominican Republic. He is the Founder and Director of Jazz en Dominicana. Fernando was born in Santo Domingo, Dominican Republic. At a very young age moved to the United States where he lived and went to school in Hempstead, NY. He then studied at the University of Houston and exercised his early career with Hilton Hotels until 1982 when he returned to his home country. From 1983 to 2008 dedicated to the transport and freight logistics sector; having been, among others: Operations Manager of Island Couriers/Fedex; Manager – Air Division for Caribetrans, and Country Manager of DHL. In 2006, he created Jazz en Dominicana, and since 2008 he has been dedicated to informing, promoting, positioning and developing jazz in the country and Dominican jazz to the world.
Member of the 7VJC since 2022
Jazz journalist and broadcaster. Director of jazz website "PJ Portrait in Jazz". Contributor of the Japanese leading magazine "Swing Journal" (1990-2010) as reviewer, interviewer, discographer and member of a selection committee of Jazz Disc Awards. Now he is a contributor of "Jazz Japan"(2010-), "Jazz Life"(2008-), "Jazz Perspective"(2010-) and "Jazz Critique"(1985-) on regular basis. Author of "Talking About Jazz, It's Piano Trio", "Bill Evans Discography".
Member of the 7VJC since 2023
Currently booking the artists for Watermill Jazz Club in Dorking, UK. The club won 'Venue of the Year' in 2019. Kathryn has also been a jazz reviewer for BBC Music, a sound engineer and acted as an agent for the brilliant US trumpet player Abram Wilson. She has been a panelist for the UK Parliamentary Jazz Awards and the Sounds of Denmark festival in London.
Member of the 7VJC since 2022
He is been writing album reviews and articles for All About Jazz since 2006 and for Jazzis and Chicago Jazz Magazine since 2009. He is also in charge of the Jazz Journalists Association's annual photography contest. He has a photography book due to appear on Summer 2021. He is a neurologist and sleep medicine specialist in Chicago and a professor at Northwestern University.
Member of the 7VJC since 2023
Inge is the owner of Stilletto Productions. Inge has successfully orchestrated numerous artist launch campaigns, festival coverage, album releases, and much more, all while remaining perched on her stilettos. She is recognized and appreciated in the jazz world, even accompanying renowned artists such as Avishai Cohen.
Jagadeesh Ramanujam Mudambi (India)
Member of the 7VJC since 2020
Guitar player, composer and founder of MoonArra, based in Bengaluru, India, Jagadeesh is an experienced guitarist performing with pop, rock, jazz and fusion ensembles for three decades. Director of the Bangalore School of Music, heading the Jazz & Contemporary music Dept., Music Relations, concerts, events, programming, etc., over the last 7 years from 2016-2023, MoonArra has performed and collaborated with musicians in Sweden, Germany, Italy, Switzerland, Austria, Hungary, Poland and Ireland with concert tours, workshops and album collaborations. He is involved both in the educational and cultural spaces of jazz in Bangalore since more than ten years having curated successful jazz festivals, , Indo German Jazz Week, International Jazz Day UNESCO and others.
Member of the 7VJC since 2019
Jan Fritz Founder of the agency JAZZMEDIA & MORE and editor for diverse music magazines (Jazz in Europe and others). He was a music editor at the private radio channel KISS-FM Berlin (production and hosting of the weekly broadcast "Jazzbeats" from 1992-1996). He plays clarinet, saxophone and grand piano.
Member of the 7VJC since 2023
John Lumpkin II is a producer, arranger, and artist. In 2009 he was also a part of the Ravinia Steans Music Institute and Betty Carter Jazz Ahead Program. Throughout his career, John has shared the stage with greats such as Sean Jones, Delfeayo Marsalis, Wycliff Gordon, and Marcus Roberts. He is also the founder of the Jazz Discovery Series, The John Lumpkin Institute.
Member of the 7VJC since 2019
He is a film and television teacher and sound engineer with 40 years of experience in the audiovisual industry. He is also a musician and producer that has been presenting and directing the radio program and specialized web site Jazz Time Magazine for 20 years. This program has featured many great artists and groups from all over the world, such as Chuck Loeb, Carmen Cuesta, Jerry González, Paquito D´Rivera, Michel Camilo, Barry Harris, Chucho Valdés, Alain Pérez, Jayme Marques Eliades Ochoa, John Patitucci, Bobby McFerrin, Tom Scott, Lee Ritenour, Marcus Miller, Dennis Chambers, and many others.
Member of the 7VJC since 2023
Known as the host of CKUA's 'A Time for Jazz', Kodi also heads award-winning record label, Chronograph Records, featuring top jazz musicians strictly from Western Canada. One of the most active professional musicians in the Western Canadian scene, award-winning double bassist Kodi Hutchinson is all things jazz!
Kodi has also come more into the international spotlight through his award-winning jazz group The Hutchinson Andrew Trio, winners of the Grand Jazz Award at the Montreal Jazz Festival (very rarely given to Western Canadians).
Member of the 7VJC since 2023
Libero Farné write for magazines such as Il Giornale della Musica, Ritmo, Fare musica, Mongolfiera, Il Manifesto, Provincia and, starting from 2004, he has been writing on the online magazine All About Jazz Italy. From 1973 to 2023 he wrote for Musica Jazz. He contributed to the writing of programmes and publications for several festivals (Angelica, Vignola, Bolzano, Vicenza…). He has also been the organizer of concerts, festivals and workshops. Throughout the years, he has been collaborating with Italy's most important radio and TV network RAI.
Member of the 7VJC since 2023
As founder and director of Fully Altered Media (FAM) since 2007, Matt Merewitz has become known as one of the most effective publicists and digital marketers in the world of jazz and improvised music. Through FAM he offers not only album publicity but also label services, consulting on distribution and streaming, career guidance, social media consulting and more.
John Fenton (New Zealand)
Member of the 7VJC since 2020
He is a Jazz journalist at JazzLocal32.com. His blog was recently assessed by Blog Feed as being among the top 50 Jazz blogs worldwide. He writes liner notes, is a videographer and photographer and professional member of the Jazz Journalists Association.